Taking no risk is the biggest risk!

Riding down this lonely back road in western mass , a road I've been on a thousand times, but in some way for the first time on this particular day.   I came across this little pond with a small bench just inviting strangers to sit for a minute and enjoy the view.
There were no houses around, no small summer camps that belong to this spot.  However someone placed this bench here, and I'm pleased they did.  See it was a early day in the spring of 2021 I was riding down this road. A quick little get away by myself, just an over night trip to western mass and Eastern New York.
A solo trip, but was it?
I didn't have anyone with me, or never met anyone while out riding but I think I wasn't alone.  2020 was a year that has been filled with crazy events, lots of hate and heartbreak. Certainly unprecedented times, for sure!
So this early spring weekend while I was out exploring on one of my very favorite motorcycles I took along with me myself.
Huh?
This story may get just a little personal here..
We'll see just before the world got crazy I had just ended a relationship with someone I loved and cared about deeply. Seems odd to say that , but it's true sometimes you need to walk away even if you are in love, which makes it a very difficult thing to do.
So then came the sh$t show 2020 was and with the world covered in masks and people staying home it was a perfect time for me to concentrate on self care.
Time to heal, and build a healthy relationship with myself again. I had to do this before and I knew I could do it again. I spent so many trips on my motorcycles and camper in 2020 where I carried the burden and pain from this with me.
I knew I had to find happiness in myself and it wasn't a new motorcycle, or trip. It wasn't going to be something specific it was going to come from within.   Once I was comfortable with the feeling of not knowing exactly where I was going to end up.  I was forcing myself to launch, and once we are suspended in mid air with no landing in site you have to unravel your wings and let the winds carry you.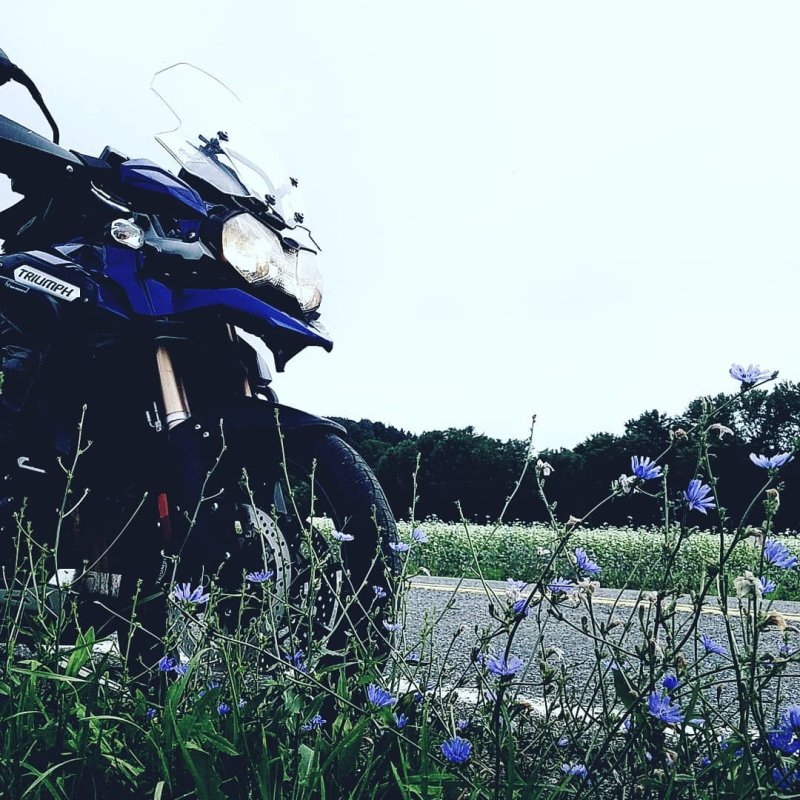 Don't get wrong 2020 was an amazing year of traveling for me, I did 18,000 miles on my bikes, and spent 50 nights in my camper, it was terrific! I found out a lot about myself and also found that person I once was.
I took a risk that year, and I'm so happy I did. We all know you need to risk failure to find success, risk rejection to find acceptance and risk heartbreak to find love.
So on this chilly sunny day back in March I sat on this bench and spent some time with myself. I remembered all the wonderful things I have in my life. Four amazing daughters, loving family members, such great friends , a garage full of awesome motorcycles a job I love.
But most importantly a great relationship with myself, again.