We had an unexpected weekend away, love it when our friends "the Morgans" ask if the girls can come spend the weekend with their kids!
This was Friday afternoon so we didn't have much time to find a good place to stay, most hotels were booked solid.  We did find a HoJo's in Williamstown MA that had a few rooms.   This also meant we could visit our friends at The Freight Yard Pub for dinner and drinks Saturday night.
Saturday morning the sun was out and the weather looked to be perfect for a New England ride!
Of course we had to take the OSJ way to western MA.
To RI first for a tag!
Then our next stop was somewhere in the quiet corner of CT.
as you can see we only have one bike this weekend.  Mrs OSJ wanted to spend some time holding on to me, and our yellow duck is the best place to do this!
We also were just in the mood for riding, and not for stopping and taking photos!   I should have mounted the gopro on her helemt and set it to take photos every 10 seconds.  The weather was just perfect and the trees were just starting to shower us with all the fall colors that New England is about!
We also had a few tags in mind, the ADV MA tag, the letter T and the #50 were all snagged before lunch!
Lunch was at this little coffee shop in Stafford Springs CT.  The Middle Ground Cafe is a great spot to stop and…
Small menu but really good food, and the best homemade coleslaw I have ever had!
sometimes we plan rides on certain stops, and many times those stops are places to eat.  I love visiting places that have been featured on cooking shows, or travel channels.  And sometimes we like to just wing it..and see what we can find.   This method can be either a home run, or a strike out.   The find "The middle Ground" was a solid triple! 
We didn't stop much once we crossed over the Connecticut River in Springfield.  MA route 57 took us west into Berkshire County, thru little towns like Southwick, Grainville and Sandsfield.   Once we reached MA route 8 we turned our wheel north and followed the Farminton River as it twist and turns thru beautiful western MA.
If you get a chance to ride out in this area and like twisty roads than MA route 8 should be on your list.  It crosses the entire state from north to south.  However the best section is south of Rt 9 all the way to the CT line.   Mrs OSJ and I were in need of a little break so we pulled over at the Becket General store and sat inside for a cup of coffee and a small bowl of chili
Once done with our mid afternoon snack  we followed route 8 up to North Adams MA to our hotel.   We had a hard time finding a hotel with a room so late in the day, so we settled with the Howard Johnson's in Williamstown.  Not the best or cleanest of rooms, but it would do.
We took a cab back to North Adams to visit our friends at The Freight Yard Pub.  We spent a long time there and had a great time!   If your in the area stop in and say hi to Sean the owner and bartender, and Colleen his sister.  Both great people!
The next morning we awoke to another beautiful  day.   Sometime during the night we received a message from a Facebook friend about a group meeting in CT at the Toy Makers Cafe for breakfast.  We figured that's only 80 miles away so lets go!   We didn't have time to stop for photo's
However it was one of the best rides Mrs OSJ and I had in a long time.  We took MA route 43 south from Route 2.  It only runs thru two towns (Williamstown and Hancock) but what a beautiful ride to take!  The leaves were a golden yellow and the sun was shining thru them with such brilliants, it was just a perfect morning with the love of my life on the back experiencing it with me.
We didn't stop once for a photo as we rode thru Hancock MA into NY for a brief run down NY route 22.  Once we crossed back into MA we took route 41 south all the way into CT.  Another great road to ride.  It travels thru several small villages as it works its way south.  Some sections are a little bumpy but for the most part its a great motorcycle road.
Once in CT we arrived at the Toymakers Café
If your a motorcyclist in the Northeast and you haven't been to the Toy makers than you need to change that now!  They are in the center of Falls Village CT.  A beautiful little New England town.  Right up the road from Lime Rock Race track.  The owners are bikers, mater of fact the barn out back is loaded with old English bikes and even a few Italians ones as well.   They serve breakfast and lunch here, however Mrs OSJ and I had already eaten a great breakfast back in Williamstown MA.
We meet up with a few other motorcyclist and sat outside and enjoyed the late morning talking about bikes.   Neil and his wife Pam were on two cool old bikes
One 1982 Yamaha Vision and the other a 1983 Yamaha RZ350.  Both bikes you don't see too often.  I had only chatted with Neil on FB and this was the first time I had meet him.   I was hoping he would have been on his other mid 80′s Honda (Here is a photo stolen from his FB  page)
A 1985 Honda NS400R, This is a very special bike, couple reasons.  First it was never imported into the USA,  this came out in 1985 and was a two stroke motor.  By then the EPA was cracking down on these bikes because they burned oil in with the fuel and produced a lot of smoke.   The RZ350 you saw above is a two stroke and was imported into the states in 1984 & 1985 however Yamaha installed a catalytic converter on that bike to make it pass emissions.  It worked but was heavy and reduced horsepower.   The other cool thing about the Honda NS400R  is the motor, not only was it a two stroke but a V3!  Only bike ever I do believe.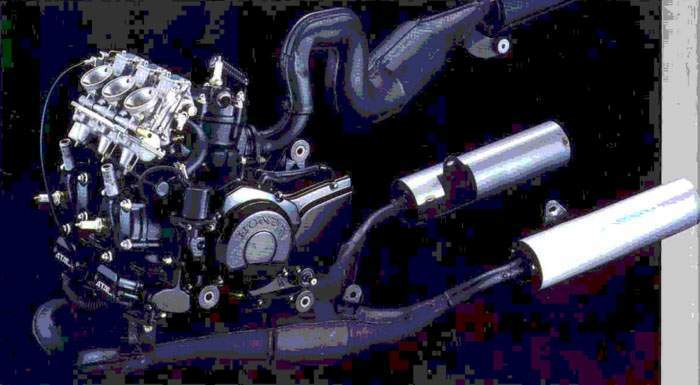 The two forward cylinders were laying down facing forward and the 3rd was in the middle sticking straight up towards the gas tank.   A very usual design for a street bike.  Honda had this motor as a 500cc bike being raced in the World Championship for several years until it switched over to a 4 cylinder machine.
Bummer, that Neil didn't have that cool bike, I'm just hoping that I get an invite to his house so I can see one and touch it in person!  Hint hint!
After hanging out here for  a while Mrs OSJ and I mounted up the duck and headed out.   I had no route planned on the gps, but I always travel with a map in my tank bag.   We had all day to get home, no schedule and nothing planned.   We only stopped 2x's on the way home, once at a dunkin donuts and another for a quick sammie at a small deli.  The camera never came out.  The day was just too nice and we were lost in conversation about everything going on in our lives.
Once of the best investments we have made in recent years was a communication system on the bike.  Several years ago I purchased the JMCB system, which worked really well but was wired and only on one bike.  Here it is on my multistrada…
This system was good, but one major flaw was the mic was too sensitive to wind noise and would amplify it and broadcast it back over the speakers.
Two years ago we purchased the Cardo Scala Rider G9 system.  Seen here on the side of Michelle's helmet.
This one works with blue-tooth and has no wires.  Its battery operated, which is nice but also will limit the time it can be used.  On a recent trip my battery died a few hours before our ride ended.   However now that we ride side by side its awesome to be able to communicate with Michelle while she's riding her own bike.   We can also stream music from our smart phones with the blue-tooth feature, as well as answer phone calls.  Being able to talk with my wife while riding is such a great thing to do.   We both enjoy it so much.
We arrived home around 6pm, kids were hungry, dishes were in the sink and the lawn needed to be mowed.  Didnt matter, we had such a great weekend of riding on the Ducati!