Ephrata, how do you even
prononce that?
EF-RA-TA I think..or that's how it was explained to us
by some guy we were sitting next too on a side walk in the American Legion
parking lot. If your not from EF-RA-TA you might be wondering what the hell we
were doing there? Well, that's what I here to tell you all!
So sit
back..relax…get a cold drink and come along for the ride…..
So many,
many years ago…okay really it was 5 or 6, I was reading a fine message board
and I came across someones photos of some really cool bikes parked in a parking
lot. In reading further I learned it was a gathering of motorcyclist that invade
the small little town of Ephrata PA on the first Sunday of the month for several
months during the riding season. I immediately got out my map book and located
that little town and put a big circle around it with the closest sharpie I could
find. I than showed Mrs OSJ the photo's and we both said in unison.. "we gotta
go there sometime"
Today was the time!
now if you've
read any of my trip reports before you would know that we have 4 kids at home,
and our weekend away trips are limited each year. So this is the main reason it
took us this long to do this trip. Our oldest daughter (Victoria) who is about
to enter her 3rd year in collage offered to take the other 3 girls for the
weekend so mom and dad could play. Yes we have 4 daughters!
Mrs OSJ had
to work Saturday morning so we couldn't leave until 1pm, and the local weather
reports for the weekend called for hot and humid weather, mid 90′s with the
chance of severe thunderstorms…typical August weather in New England. Nothing
we cant handle. However we only had a few days to pull this off, Lizzy our
youngest daughter had horseback riding lessons on Monday afternoon that we
needed to attend. So I came up with a plan, Slab from home to Port Jervis NY.
A few months earlier I asked for help coming up with a route that starts
in Port Jervis and ended in Ephrata, and Rincewind came up with a route for me.
Which I owe that man a night out to a fine eating establishment for providing me
such a great route…more on that later!
We pull out of West Boylston MA
at exactly 1pm. Some back roads thru central MA get us to I84, one road, 3
states & 214 miles for the first leg
now what is a road trip without
road food?
My buddy STdave allways raved about this place called
"Blackies" and told me to make sure I tried the "sauce" they serve. Well this
place was right off I84 and near my first fuel stop…so we stopped!
Mrs
OSJ only eats her dogs with mustard and onions…two things they DONT have at
Blackies, she is happy non the less
Our next stop
is the end of the highway for the day for us. Port Jervis NY is very popular to
motorcycle riders because of this place..
that's hawks
Nest, we didn't have time on this trip to ride up that way, plus we've done that
road several times. So instead we followed the route i had loaded in the GPS.
Which brought us into NJ onto route 521 south. This road runs along the southern
side of the Delaware Water Gap. I've been on the PA side of this gap but never
the NJ side. Boy was that a mistake. The NJ side is so nice!!!! We didn't stop
for man photo's, it was stinkin hot and we really wanted to make it to Ephrata
that night.
521 turned into 615, then 606 at another point. At the end
we needed to use I80 for a short bit then got on route 611 south. From this
point on I cant tell you the roads or route numbers we used, It was all just
following the gps and the route Ricewind sent me. I will go back and reread the
gps file and match the route to my paper maps so I can have a better idea on the
roads. I must say the route was FANTASTIC! the roads were empty, twisty and fun!
We were quickly running out of
daylight, and I knew that the area we were riding in was considered deer
country. Both Michelle and I are both well aware of the problem deer pose to
traffic and how tragic it can be on a motorcycle. At one point we came around a
corner and noticed something big lying in the road, I figured it was a dog. As
we approached it it was obvious it was still alive but not moving off the road.
Our hearts broke as we slowly drove by the baby deer in the road, just kicking
it legs and trying to stay alive.
Many years
ago a dog I was walking was hit by a car, and somehow I held on to the leash
when it was hit. Seeing the deer reminded me about that day. It was very sad and
disturbing to see, I didn't know what I should do? Stop and try to move it off
the road? Stop at the next house and tell them about to call a town official??
Then just a mile down the road we saw the mama deer standing by the side of the
road looking back towards the baby. That did us in.
The
GPS was telling us we would be at the Hampton Inn Ephrata around 10:20 following
the planned route. I knew Michelle was getting very nervous with every corn
field we rode past, so I told her I had some closer hotels in the gps just in
case we were running late. She gave me the okay to go off route and head to
one.
So at 9ish we
arrived at the Hampton Inn Reading, 348 miles in 7+ hours, Now I'm sure I don't
have to explain to any of you that are reading this what we look like and feel
like after a long ride in 90 degree heat. Needless to say what we smelled like
So nope, she wouldn't let me take out the camera when we sat down to eat at 9pm.
We were so hungry we got our room and rode right down the street to eat without
going up to the room to change or clean up.

Tomorrow we head to Ephrata for the
show…tonite we sleep like the dead!
We woke up to a beautiful Sunday
morning. We were both well rested and ready to go to the show. Michelle and I
have been attending motorcycle shows and races for many years. One of our
favorite things to do when we attend a motorcycle race is to walk thru the
parking lot checking out all the cool bikes that ride to them. We were both
really excited about this show.
When we arrived we noticed some people
sitting on the sidewalk watching the bikes roll in. Every year for almost 10
years we attended the AMA superbike races at Loudon NH, and at the end we had
our favorite spot to sit and just watch all the bike leave. And every race we've
attended since (Indy, Mid Ohio, Daytona and New Jersery we look for a place to
sit and do the same. So this was really cool to see people sitting watching
bikes come in…of course we joined them..
The yellow
duck was parked right next a very cool bike, and a wicked nice guy to talk
with
I also had a
nice conservation with an older gentleman that use to ride but had been in a
airplane accident 15 years ago and was unable to ride. I kept looking for other
people from the forum, or other ST.N Stickers on bikes but didn't notice any.
I did however notice some nice bikes…here are just a few
Now for some
I use to own myself…I had a yellow on like this

and I had a
white one too

As you can
see Mrs OSJ was wearing her support for Mr Spies (her favorite racer) and that
shirt matched that RZ so well. When we walked away I said I cant believe Ive
owned two of those and sold them both…her response was "dont worry we, will
have another some day" Man I love that girl!
Some ducks were
there…

Some cool
Yamaha's

A
couple of American twins

Oh, you
thought I meant this American twin?

Some more cool bikes we
saw…

The one thing
I love about places like this vs. museums, these bikes are all on the road and
driven here!
After two trips around the parking lot and 15 min of siting
by the road again we decided it was time to say good by to EF RA TA and start
our journey home. It was nice to follow a couple of two strokers down the road
for a bit!

"Our founder, Truett Cathy, made
the decision to close on Sundays in 1946 when he opened his first restaurant in
Hapeville, Georgia. He has often shared that his decision was as much practical
as spiritual. He believes that all franchised Chick-fil-A Operators and their
Restaurant employees should have an opportunity to rest, spend time with family
and friends, and worship if they choose to do so. That's why all Chick-fil-A
Restaurants are closed on Sundays. It's part of our recipe for
success"

I wish I checked this website
before we left!
I wanted to
check out this place and see what the fuss was all about. If you haven't heard
they (Chick-fil-a) has been in the news lately up here in Boston. The birthplace
of liberty and freedom of speech, however now that seems to only be true if you
agree with the personal view of its mayor Menino. He said he would block the
chicken restaurant from coming into town because of the personal beliefs of the
CEO of Chick-Fil-A.
Anyway we
back tracked to Reading to get one of these sammies…however we were surprised
to see the restaurant closed. We settled for a diner we saw across the
street..which wasn't very good, and for some reason I forgot to get a photo of
our lunch?
Our route
today was taking us east towards home however we didn't have to be home until
Monday around noon. I had used http://www.motorcycleroads.us/ to help me make my route, and our
plan was to get to Bear Mountain area of NY.
Most of the route was rural and
with little traffic. Not as good as the route Ricewind sent me but still pretty
nice. That website is pretty easy to use and find some good roads in a area you
might not be familiar with.
Michelle and I had constent communicates
with our new Cardo G9 intercom system we just got.
Our
Multistrada had the J&M system, which we loved.
but never had
enough room to install it on the SS. We really enjoyed being able to talk with
eachother agan.
a few people have asked me about
the Cardo G9 system and how I liked it…especially since Ive been using the
J&M system for so long. First off lets go over the G9…
this
is a wireless system that has a intercom between units, and can pair with up to
8 more riders if they have the same system. You can also connect your phone via
bluetooth and it also will do stereo music if your phone or Ipod has that
ability. You can also plug in music source via a simple male to male cord. I was
very please with both ways to listen to my music.
I also have the
scosche remote for the Ipod..

this
also works very well.
Few things I didn't like about the
G9-
My battery was dead as we pulled into the restaurant the first
night. We left home at 12:30 and arrived in Reading at 9:30, that's a long day
for some but Mrs OSJ and I have done longer and we would be a little
disappointed if we still had a few hrs to go. Talking to eachother when I'm
tired is a great way to keep me awake and alert. Plus two more things to plug in
and charge at the end of the day!
The voice commands were a little
cumbersome..it seemed to be confused with most of the commands while underway.
I'm sure the wind noise played a factor. Half way thru the first day I turned
this off. Which means when you want to switch from music to intercomm you would
need to press a button on the unit itself. When I did this it would switch Mrs
OSJ's unit to intercomm as well.
The quality of the intercomm was very
good. We could hear eachother clearly at highway speeds with our shields down.
However with Shields up it picked up way too much wind noise and amplified it. I
guess we can adjust the sensitivity of the mics so we will give that a test
soon.
We didn't try the FM radio so I have no comment on that.
The only problem we had was my speakers, at some point during day 2 my
right speaker stopped working with music on, and had really annoying static when
Mrs OSJ spoke. Ive contacted Cardo and should get a new speaker set under
warranty.
Cost for this system was $500
Now comparing this to the
J&M set up we had on the multi and Concours..
This system is
hard mounted to the bike, and is powered thru the bikes electrical system. There
are lots of wires with this system so you need some hidden areas to mount this.
That was a challenge on the multi.

The
headset is wired, so you are always connected to it when on the bike. Its a
coiled wire so its not that bad, but clearly not as convenient as the wireless
set up.
Music on the J&M is much better and easier to use, and sounds
awesome. However the speakers are thick and you may need to do some cutting to
get them installed. The large wheel you see on the top is the volume control and
it feed both rider and passanger. So only one music device is used. This could
be bad if your passanger doesn't like the music you listen too, but for Michelle
and I we didn't like the separate music of the G9.
Now the one huge
downside to the JM system is the mic. You can adjust the sensitive of it, but
its not enough. The way this one works is when music is playing and you go to
speak it will turn off the music and turn up the mic. However when on the
highway the wind noise is just loud enough that the unit thinks your trying to
talk and will not play the music. This was only a problem on the multi and I'm
sure it would be a big problem on the SS if I were to mount it. When on bikes
like the FJR, Concours & ST1300 with big adjustable windshields I'm sure it
wouldn't be a big deal.
This system also has a CB radio, which works
very well too. However you would need to install a antenna on your bike. Several
of my riding buddies have this system, and I ride with a few goldwing riders
that have CB's Its a nice way to communicate with a group of bikers.
I
paid $700 for the setup about 5 years ago, not sure if the price has gone up.
So what do I recommend for you?

If you had one bike and it was a
big sport touring one, I would lean towards the JM, if your like me and have a
few bikes I would recommend the G9. Either system is a nice way to enjoy time on
your motorcycle.
Alright, back to the trip!
We crossed the
Delware River into Milford NJ. We needed fuel and a little break from the heat.
If your in the area stop by at the Milford Citgo and Deli and say hi to Ruth for
us! We had a great little visit at this store/gas station. I finally got a
chance to try these..
Crab chips!
Yummy
It was hot outside, like over 90 and humid..however Ruth had the
temp set at 58 inside this little shop. It was so nice!
Mrs OSJ has a
cousin that lives in NJ and told us if we ever found ourselves near by to stop
in a visit. We plugged his address into the gps and told it to get us there via
the shortest distance…..in other words BACKROADS!3
I remember
County Road 519…tunnel road…County road 643..all nice little back roads thru
some beautiful country. At one point Mrs OSJ says "your gps knows you well..she
picks the nicest little roads"
We
arrived late afternoon at Jeff's house, who just got this cool looking
machine
Our visit was
short lived, we really wanted to get to our destination for the evening before
the heavy rains came it. Local forcast called for severe thunderstorms later in
the day. As we left Jeff's house in Hackettstown we noticed the dark sky out
towards the west. Good thing we were heading northeast. I was hoping we would
beat the storm….
nope
didn't
happen that way! I should have checked the radar while at Jeff's house, cause if
I did I would have taken the highway due east than north to our hotel. But
instead I continued our journey on the back roads, which got us as far as
Lafayette NJ. At a traffic light the storm came in so fast it almost blew us
right over while waiting at a traffic light. It was very intense with huge
thunder and scary lighting strikes. Luckily the people at the fuel station/store
let us hang out inside. Oh and I tried these while waiting…
Isn't it
amazing how much time we spend at gas stations when you travel by
motorcycle?
Now our plan was to ride via back roads all the way to Bear
Mountain in NY. I wanted to stay at the Bear Mountain Inn, last time I was there
was on a family trip when I was 10 years old. We were only 1.5 hours away, but
it was raining pretty hard and getting dark. We thought lets get riding and see
how we do. At one point i noticed a Quality Inn on our left so I pulled in. I
asked Michelle if she wanted to stop for the night here, she said "nope, lets
keep riding"
We ended up taking 94 north all the way to 17a in NY than we
used Route 106 thru Harriman State Park and finally Seven Lakes Dr took us right
the the Inn. All very nice motorcycle roads but it was raining so hard we really
couldn't enjoy them. As we arrived at the Inn I noticed I had a txt message from
my buddy Phil to call him ASAP. He was starting a 10 day ride with his wife from
MA to OH via Skyline Dr.
Turns out he had a rear tire blow out
and was stranded in NJ, Vernon NJ to be exact. I said, we rode thru Vernon just
about 2 hours ago in nasty rain, and almost stayed at the Quality Inn. He said
"that where I am!" turns out he was at a gas station just up the road but parked
in back to try and fix the tire. We rode right by him!
Our room at the
Bear Mountain Inn was beautiful. We ordered take out from a local restaurant
(their restaurant and bar is closed on Sundays) than relaxed for the
evening

Only
220 miles today, but still tired. We slept like the dead once
again!
We woke up to another beautiful day.
It
seemed like we were the only ones staying at this fine hotel. I wish we had more
time to expore the area, but we couldn't. We needed to get home by noon to bring
one of our girls to horseback riding lessons. Here are a few more photos of the
Inn
Once on the
road we needed to cross the Hudson via the Bear Mountain bridge
We did have
time to stop for a very good breakfast at..
We
took 9D to Route 301 east. What a beatiful motorcycle road 301 is! We took that
all the way to I84
Once we
reached I84 we be lined it straight home. Just in time to get Lizzy to the
barn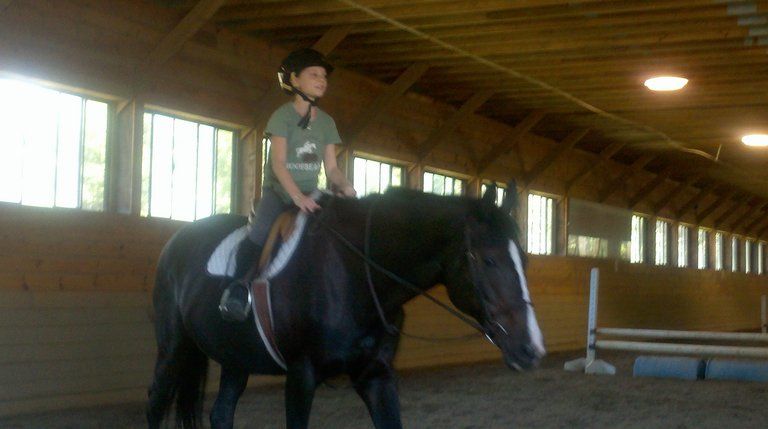 Oh and for those disappoint with me
and the lack of food photo's…well Mrs OSJ said she wanted you to know that I
get to ride a…
anytime I want!