Puking..now thats not the best way to start a few days of riding, but I guess it wasn't up to me. Mother nature put something bad in my stomach on Thursday night, and well it had to come out

Friday was gonna be a great day of riding with Mrs OSJ….

the kids were gonna be with grandma in Boston for the day and we both are self employed so taking mid week days off are easy. My buddy Phat Pat who is a school teacher had the day off as well. I told him to be in the driveway at 9:30am Friday morning. 
The problem was I was up riding the porcelain bus between 1:30 and 6 am so I was in no shape to ride at 9:30. Mrs OSJ had to go out to inform Pat of the bad news…he went off riding alone
I woke up around 10am feeling a little better, Mrs. OSJ made me some scrambled eggs and toast and I fugued if I held that down maybe we could still get a little afternoon riding in. By 11;30 I was feeling much better, my stomach felt fine, but I had a massive headache..I figured some wind in my face would do me some good… so off we went…
Our original plan was to ride around central CT, collecting some Ride New England stamps and also snagging some tags. I didn't know how long I could ride so we just pointed the fender south and rode. Riding thru Holland MA something caught my eye…I did a quick u turn while Michelle says "what did you see?" 
You see some of the tag games I play allow you to use a file photo for the placement of a tag. So on many rides I stop and take random photos which end up getting used at some point. This was the case for this spot.

You can also see the little tree provided some shade to sit under. Michelle had packed a few snacks and drinks in the tail bag so we sat under that tree and relaxed for 20 min…
she takes such good care of me!
From here we took New City road south into CT then a few more back roads over to TSI Harley in Somers. We could kill two birds with one stone here. 
1. Its on the Tour New England program so we got our stamp
2. I needed a fat boy for the Theme tag on NER
Michelle says every guy working there came up to her to ask if she needed any help…I wonder why?? Could this shirt have something to do with it?
Okay back to the trip. After our stop in Somers we were getting hungry. Right down the road is the Chuck Wagon Restaurant, we've had breakfast here before and it was AWESOME…

so we figured lunch would be good too. Its just that they close at 2pm and it was 2:30 :( 
One place I know Michelle has never been, but I have and I know she would like it was Reins Deli. So i yelled back, I got a place in mind, and then we can run over to Gengras to get another stamp..
So off to Vernon CT we go. 

It was just about 3pm when we got here, and I was feeling great…and really hungry! I ordered a corn beef Rachel, and Michelle got a roast beef on a bagel. Both were delicious
After lunch we slab it down to Gengras to check out the bikes and get a stamp. I was surprised to see they dropped the Ducati line, I asked a few salesman if someone else picked it up in the area, but no one knew. Or they just didn't want to tell me. 
I didn't take the camera in with me but we did get a chance to check out a few new bikes. Michelle surprised me twice here. 1. She didn't like the new K1600 and 2 she loved the new Tiger. See we sold the Multistrada this year so the only two bikes we have that we can ride two up are the SS and the KLR. Both bikes she doesn't mind riding, but not for 500 mile days. Because we don't have any bike trips planned for this year we are taking our time looking at a new sport touring bike. 
We didn't stay here for too long, we wanted to head north. I had the gps but we've spent so much time riding in that area we just followed the road where ever it took us. Which was here…
For this…
Cupcake was good, Michelle says the cake was very good…and the Latte was awesome! Michelle's weakness is coke in a glass bottle…wanna get on her good side, bring her a case of that when you come by 
Okay, so our belly's were full, and we snagged two stamps and one tag. Our last stop was the NER CT tag, which was this location taking by ChevyPC
We found the location just a few miles up from the bean. 
From here we took the long way home, back roads thru Southbridge, Charlton, Spencer, Paxton and finally home. Just as the kids were getting dropped off by grandma we pulled into the driveway
After all said and done we ended up burning a tank and half of fuel, and snagging some tags…oh and no more..
Tomorrow the girls are at a shower all day and I will be riding the Trans MA trail for the first time…
so I awoke on Saturday to a glorious sunny day. Mrs OSJ was taking the kids to a wedding shower later in the day so she didn't need to be up early. I left the house on the SS heading to my office to switch bikes.

I don't usually keep my bikes at home..too many of the kids toys in the shed for my stuff. I like that because I leave for work in the truck only to hop on the bikes when I want to play hooky..it feels so much better that way 
Okay, so I do a quick check on the droid to see if any tags have become available…and low and behold the ADV Mass tag is right up the road. So a quick detour thru Princeton leads me to this spot…
Amazingly I have full service and 3g at this remote location so I snag the tag while sitting right there. No file photos allowed on this one so I gotta keep riding to find something new to post up, but first I'm hungry!
I stop at Westminster Café, homemade has is listed on the black board special. I love hash! 
However I'm sorry to report this was not a very good breakfast, and the hash was a disappointment. 
But complaining about a bad breakfast on a day your riding isn't allowed in our world…so I shocked it off and got back on the bike. A quick ride west on RT2 would lead me to the beginning of the TMT in Greenfield. The only problem with that was the traffic on 2 was bad, Seems a huge group of bikes, ya know the kind that ride side by side were riding 5 below the speed limit and the 4 cars in between me and them could pass. I was 
 riding behind this group!
I couldn't take it anymore so when I noticed a road to my left going over the Miller river I took it. It was a good choice because this bridge would be my new tag to post up.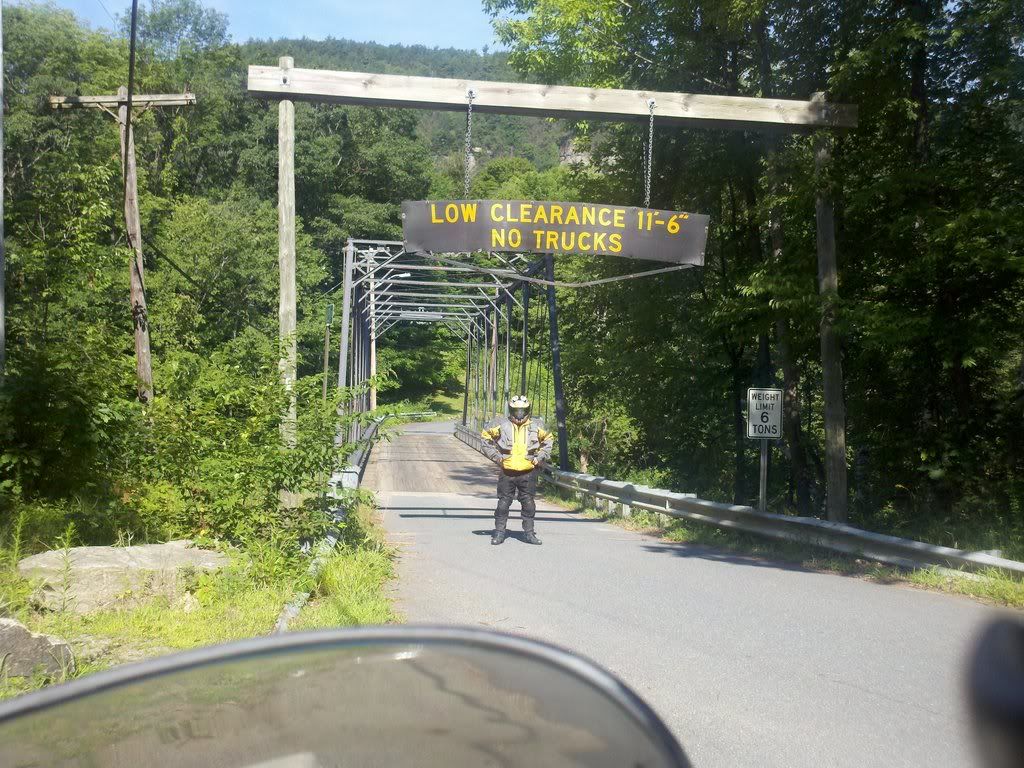 and I also love taking photo's of bridges and bikes together, I even have a trip report about them here.
But I still wasn't at the start of the trail just yet, I needed to ride thu 
Millers Falls and into Greenfield. Just a few miles south of route two I find myself on the start of the trail

now before we go any further let me tell you how much off road riding experience I have.
Thats about it.
Okay, if I had to give you a number I would say maybe 1,000 miles of dirt road experience and no off road riding in my life. Like dirt bikes or 4 wheelers. 
However after riding the TMT I would say that is exactly the type of dirt riding I love. That's what I pictured doing when I bought the KLR. 
Now this ride isn't just all dirt, there are some paved sections that get you between the dirt roads, true for most riding like this in New England. Even the paved sections are beautiful

There are many old cemetery's along this route, some are out in the middle of nowhere while others are just outside of village centers.
There's even a few bridges on the route, one goes over the MA pike (interstate 90), although the bridge is paved the road on either side is dirt.
There are countless farms along the way, with spectacular views from some.
I had forgotten my regular camera so all I had was my droid phone. Which had issues with the battery so I was turning it off and on while riding. Which didn't allow me to stop and take as many photo's as I wanted. All the more reason to plan another trip soon.
I did find a nice spot to find some lunch..

a nice corned beef and coleslaw sammie today..Rein's was much better, but I had a nice spot for this one.

along the way I would pull over and consult my old school GPS
yes thats a map book that I brought. When I started riding 28 years ago we didn't have GPS's but we did have paper maps..and big tank bags. I never went anywhere without either. Today I never ride without my gps but I always carry a paper map or maps as well. I usually don't take a Delorme Atlas because of its size, but I had transfered the trail onto my map so I stuck it on the back for the ride
I didn't see any other motorcycles on the route, but I did see a whole bunch of these guys..
some waterfalls
and a whole bunch of barns
But one thing caused me to turn around to check it out, and while I was sitting here taking a little break I came up with a new idea for a tag game. This was in the middle of no where, and if your traveling north along the route you might miss it, it will be on your right in that case. 
I had been carrying this little ducky along with me since I bought the KLR. After a couple thousand winter miles he was getting pretty dirty. One of my riding buddies named him Dirty Duck. I thought he would like to meet some other dirty bike riders. 
So when you riding down this road…
You will see this tree….
Hanging out right next to it is Dirty Duck
You can clearly see the old chimney across the street. I'm pretty sure its the only one along the route. 
Dirty Duck even has his own thread…see it here
http://www.advrider.com/forums/showthread.php?t=707658
The rest of the trail I had no camera, my phone's battery had finally died. I reached the CT line and did a quick search on my gps for the nearest Radio Shack, cant do that with your paper maps in the middle of nowhere no can you?
Turns out I was only 10 min away so I did a quick detour to pick up a car charger.

I know Mrs OSJ would be very nervous if I didn't let her know I was done the trail and heading home. I didn't want to just slab home, so I had planned out a back road route to get me from Barkhamstead CT to West Boylston MA. 
The only stop I made was at a fuel station in Southwick for some fuel for me and the bike…

i rolled into the driveway around 7pm tired as all hell! 

Michelle and the kids were in the pool, it didn't take me long to ge my suit on and join them all. The water was 87 degrees! It was an awesome way to end such a great day of riding.