in typical OSJ fashion, things just didn't go as planned today…big surprise huh?
Okay, I really wasn't gonna do my taxes, that will happen on Thursday when I visit my KTM riding accountant known here as Mr Bill,  But today was supposed to be spent in front of my computer at my office preparing for my visit with Bill on Thursday.
But….
the phone rang this morning, about 5 min before I was to walk out the door.  Seems my little Suzuki DR200 needed to come home. 
Come home? You might be wondering where was it?  
Well a few weeks ago our friend John, who is the music director at a small theater in Boylston asked if I had a motorcycle they could borrow.  Seems the current play has a few scenes that involved a motorcyclist, and they thought it would be cool if someone had a bike small enough to be moved on and off the stage. 
In comes the DR.
I dropped it off on a cold sunny day.  Today was gonna be a little warmer, temps were close to 40 when Michelle dropped me off at Calliope. 
John was waiting inside with the little Suzuki
The little girl did a great job in her acting premiere.  No photos yet, but John says he will send me a few, I will add them here when I get them.
Now back up just a bit, remember when I said the phone rang 5 min before I was too leave for my office?  Well, 20 seconds after Michelle said we need to go pick up the DR I was on my laptop. 
Why?
Tags!
yup, I'm still loving the tags..however no action on NER so Ive moved over to ADV and ST.N for the winter.  They have the theme tags rolling, or Wild card as they call them.
So Michelle helps me get the bike out thru the front doors and snaps a photo of me as I get ready to roll down the road.
Now I can hear the salt Nazi's now…eewww, I cant believe he's riding his bike with all the sand and salt on the roads!  I would never do that!  I can hear their whinny little voices…"its gonna get rusty" 
Well I say grow a few man!  I know the roads were wet, puddles everywhere and tons of sand.   And yes, kimosabi there might even be some ice.   But were motorcyclist ya know.  We used to be feared in the public eye, afraid of nothing we were.  Its time we take back the highways and back roads of America!
on a little 200cc bike that is….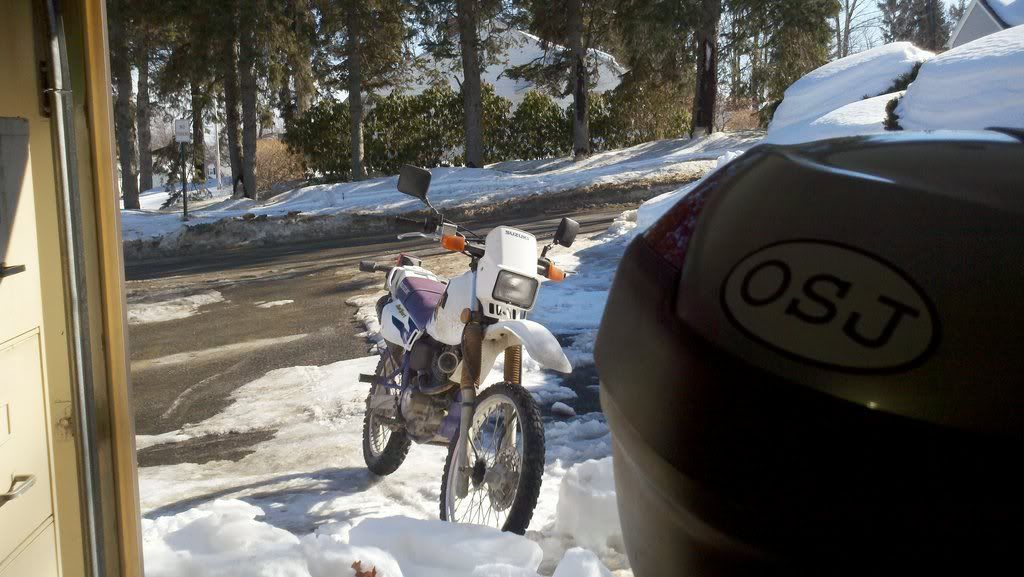 Okay so my big bad plan was to ride up to Princeton MA and stop at the NEADS location.  They are a local Non Profit that trains service dogs, hearing dogs and other assistance dogs of all breeds, shapes, and sizes to help people who are deaf or in wheelchairs. 
Why here? 
Well the current ST.N theme was an image of a dog on a sign.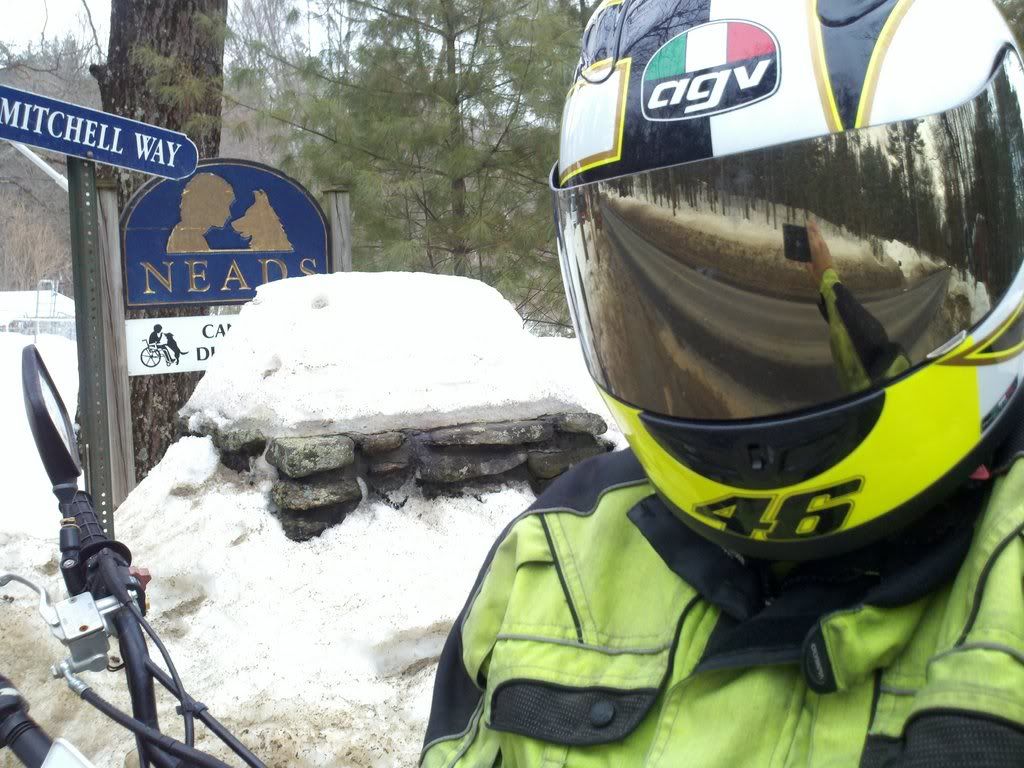 One tag down! 
My plan was to ride home, place the tag with a shot from down the road, then have lunch with my wife before I head back to the office for a fun day of paper work.
Here was my new "theme" for the ST.N boys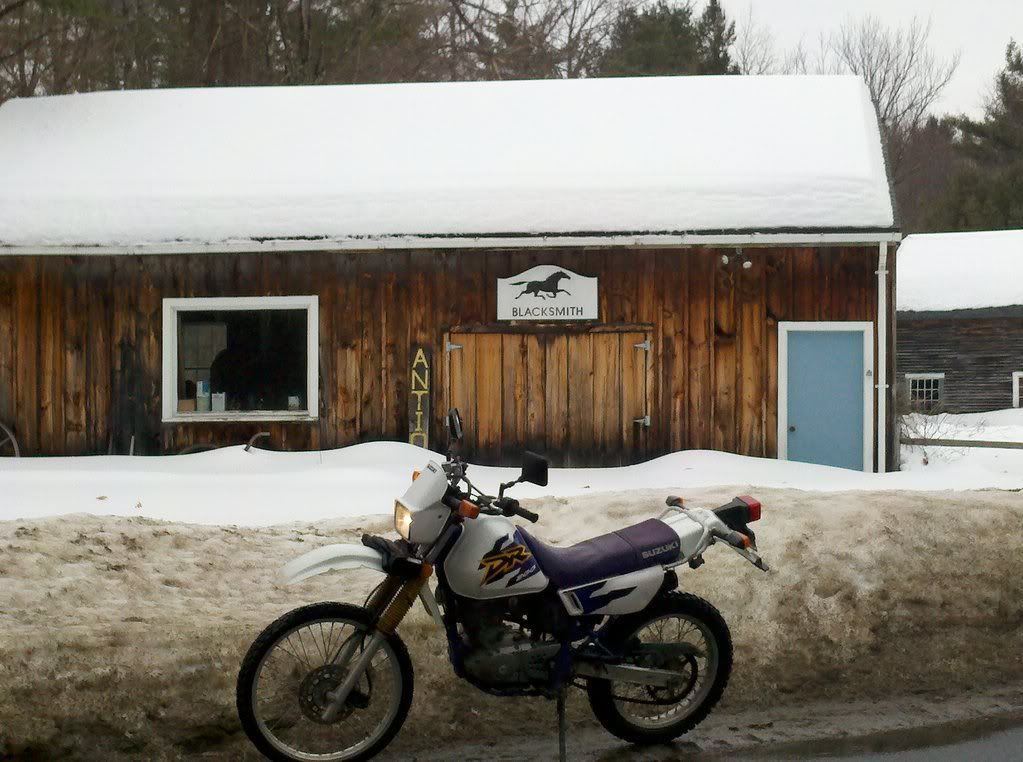 Blacksmith shop!
Once home I enjoyed a salami sammie made for my by my wonderful redhead wife, sorry no photos of the sammie or red.  However while I was eating I quickly glanced at the ADV board and saw the two themes that were current.  One was a learn to fly sign, the other was a source of local drama in a town.
2 birds with one stone..this was gonna be easy!
Just up the road was the sterling airport.  They must have a learn to fly sign and seeing its the home of the Sterling Fair every year…is there a greater source of Drama in a small town than a country fair?  I think not!
So off I went, as I walked out the front door I heard Mrs OSJ mumble something about… knowing I was gonna ride all day today… She knows me too well!
As I pulled into the parking lot of the airport I put my feet down to steady me over the ice.  Gezz…don't these guys care about motorcyclist?? The lot was shear ice!!  However you can ride on ice, just dont touch your front brake, and take gentle turns. I snapped my shot of the sterling airport sign for the drama tag
Then I went inside to ask if I could take a photo of the front door with the learn to ride sign on it.  The guy behind the counter said, here take this one, as he handed me a big ass sign hanging on the wall.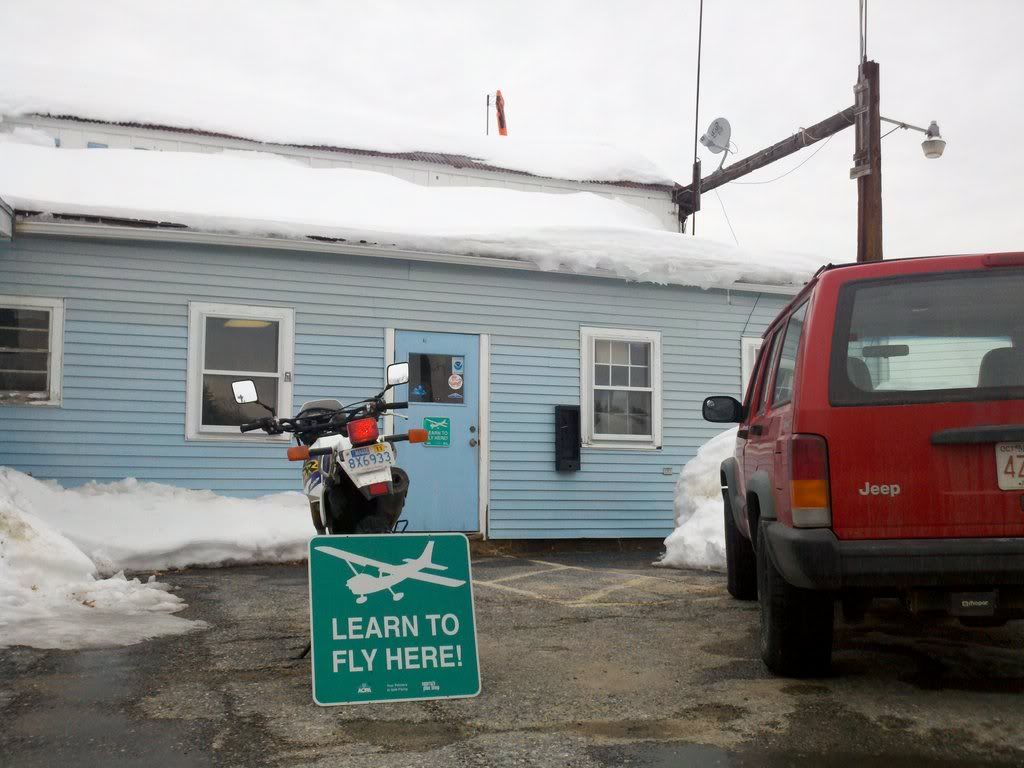 I told him I would come back in to explain why I was riding and snapping photos.  We talked for quite a bit, he even rides himself.  Hes' got a dusty old gold wing tucked out back, and use to have a 72 XL 250.  I showed him photos of my other bikes and introduced him to the NER site as well.   He even offered to teach me how to fly if I wanted to go up in a plane. 
I passed on that last one.
Off I went..I needed two new theme tags.  First I went north, exploring the little back roads of Sterling, Princeton and Leominster.  Just looking for interesting things to take photos of.  I stopped at the new location of the meet and greet coming up this spring.
Another ice covered lot.  I'm hoping the mud will not be bad this spring.  I also checked my phone for wifi…no go with that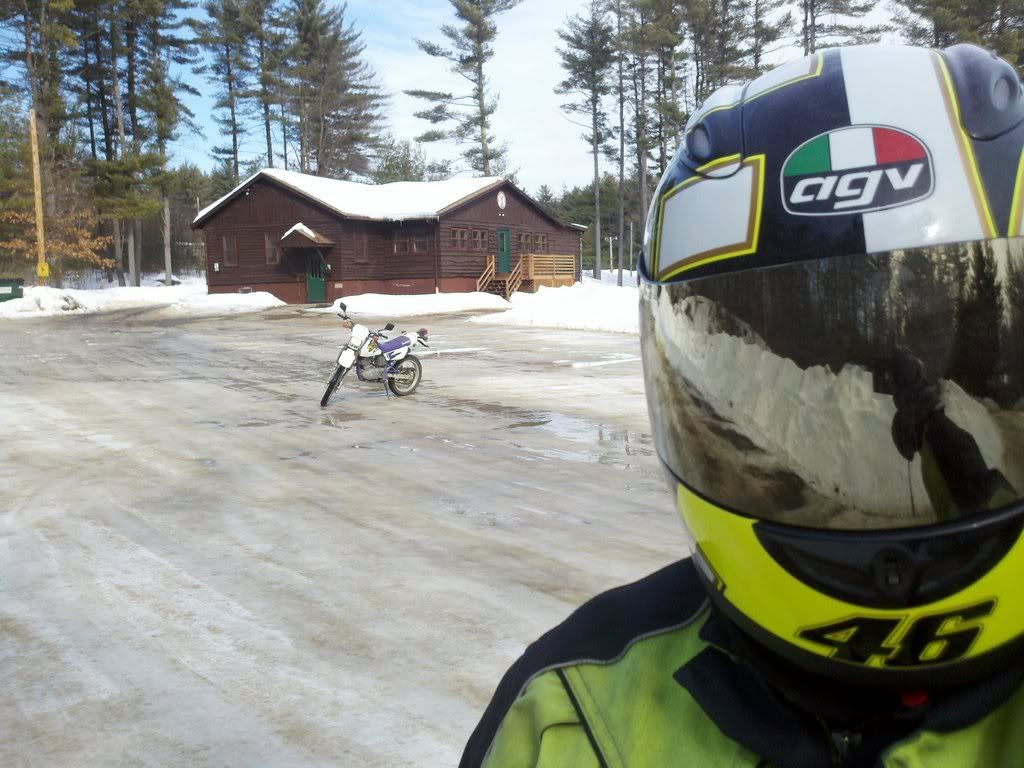 From here I went up thru Leominster and thought about riding up and rescuing Dunkin Duck from under his snow capsule.  Read about him here  But I didn't bring a shovel with me, and I figured I would need that to get him out of his spot.  So instead I just kept on exploring.  I stopped here to get a photo and post up one tag for the ADV forum.  My new theme was a roof with something painted on it, or sign made from the shingles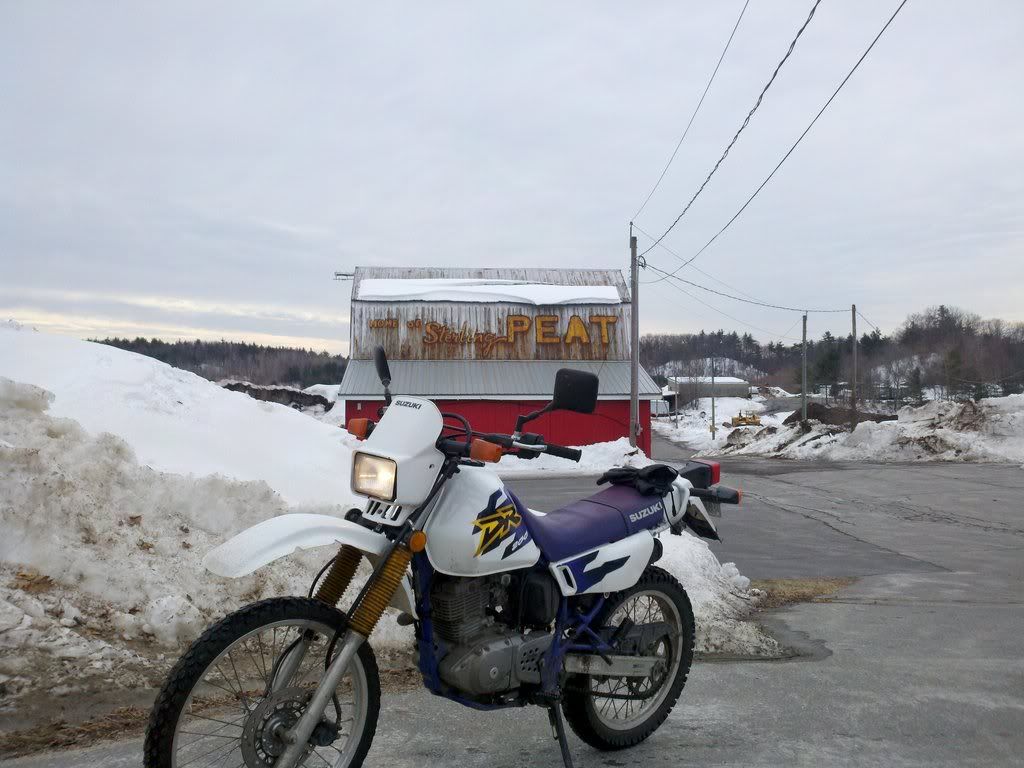 By now the sun was shining and the roads were starting to dry out a bit, Time to head back, what fun is that??
However I knew this thing was close, so maybe I would use this as a tag
Then on the way back to the corporate offices of Old Stone Lawn Care  I needed to stop at my local insurance company to give them the paper work for my new bike purchase.  Hopefully within a few weeks that little Honda will be home and ready to ride.  My buddy Phil (AKA ChevyPC) is picking her up for me on his return trip from FLA.
I pulled up to my garage right at 3pm, and noticed how much of the snow was melting right infont of the door.
My other rides were tucked nice in an warm inside, they both were jealous of the little DR on such a fine day in February.
I only rode 75 miles today, but it was a fun 75 miles.  I should have been working at my desk instead but I just couldn't help myself