Many of  you know about Dunkin Duck from this thread.  But that's really not where the name came from.  Back in 2004 I purchased my first Ducati, a beautiful yellow 800ss, and at that time I was leading a lot of rides on the NER site, and because I always had a Dunkin Donuts stop in them I was giving the nickname of Dunkin Duck.
Here she is the day I took her home in October of 04
I kept that Ducati for 4 years, then in the spring of 2008 I was seduced by the beauty, speed and allure of the Ducati Multistrada.  In a moment of confused passion I traded away my trusty yellow bike for the taller red one.
This was something that didn't go over well with Mrs OSJ.  Because the SS was my first Ducati, and she loved cool looking sport bikes she felt it was a huge mistake getting rid of it. After a short time I felt the same way.  However I did love my Multi, and it took me all over New England, and the eastern State for three years and 30,000 miles.  I loved that Multi, and Mrs OSJ warmed up to her pretty fast.  
But… there's always a but in these stories isn't there?
I would catch Mrs OSJ on Sunday mornings scanning ebay, or craigslist…always looking for the same thing, a mid 2000′s SS.  Preferably a yellow one.  She would always point out that you never see one for sale, and if so it was always red.  We always attend a few Italian motorcycle shows each year and would notice the same thing. 
Until last fall, at the IOM show in September Mrs OSJ spots a yellow SS, she says hey, one like we use to own…I quickly said, that IS our old bike!  She couldn't believe it, and she was determined to talk with the owner, so she leaves a little note on the seat with her cell number to call her before he leaves the show.  Only a few minutes go by and the guy calls. 
So we spend a few minutes talking with him, and much to my surprise Mrs. OSJ says, if you ever wanna sell it call me first!  She gets his email before we leave and much to my surprise they communicate a few times during the winter.  I had no idea about this.
At one point this winter she asks me if I wouldn't mind her buying it back, I said sure..but I don't want to own 2 expensive to maintain Ducati's.  So she says, why don't you try and sell the Multi.   Oh boy..now things are getting interesting for sure!
The multi had to go in for some recall work, its 30k mile service and new tires.  I figured it would be worth its most with this stuff getting done.  I was to get it back by mid March and I would try to sell it then. 
But….yup…TWO buts in this story….
Peter, the guy that owned my old SS called me up and asked if I would have some interest in doing a trade?  Seems he had a hankering for a Multistrada and knew I needed to sell mine before I could buy the SS.
So we meet up for breakfast one Sunday Morning with the two bikes.
and come to an agreement!  Swap bikes plus some cash in my pocket and we are both happy.

Mrs OSJ was happy!!
After breakfast we take the multi for one last ride to the bean, Michelle says her goodbye and cant wait for the yellow bike to return.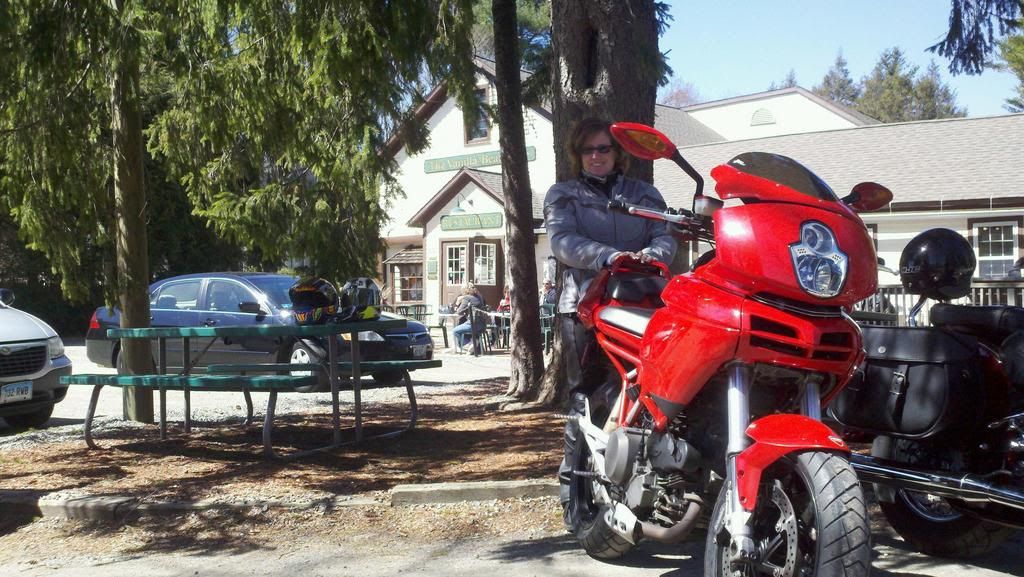 Now this whole plan takes almost  2 months from the first talk to the swap, which BTW happens on Mrs OSJ's birthday.  And to make it even more fun I decided not to tell anyone.  I wanted to surprise my riding buddies.   I did let it slip out to the Lunni one in Maine, but I knew I could trust him to keep it quiet.  All others had no idea. 
Here is the Multi all tied down and ready to go to its new owner.
Dunkin Duck even comes along for the ride.
I meet up with Peter in Putnam CT for the swap.  DD gets to meet Peter and see's the original Dunkin Duck for the first time.  We talk bikes for a while, Peter owns several cool bikes, RC51, SuperHawk, Road King and a 750ss. 
Once both bikes are loaded with their new owners we head home. 

Now some of you might remember from earlier trip reports that I have owned some bikes more than once, like two RZ 350′s, two KLR650′s, two FZ600′s, two VRF's and three Concours.  But never did I buy back the same bike I had once owned, this was a first for even me!   And this bike makes it 23 bikes I've owned since I started riding back in 1984.   And to make the story even sweeter is I traded in the SS for the Multi back in 07, only to trade the Multi back for the SS in 2011!
Here is the last time these two bikes saw each other…

and here they are 4 years later
So the yellow duck is back! 
Now gotta go for a ride…..