So Friday April 13th usually would be a very busy day for me, work wise. I very rarely get a day off in April or even May in my business. But this year was just a bit different. The lack of snow this winter and the unusually warm weather in March meant it was an early year for landscapers to get their spring clean ups done. Which in turn makes it a early year for me to get started on my fertilizer treatments.
So I find myself on this lovely day in April ahead of schedule and no customers looking for me. Mrs OSJ is also home (she only works 2 days a week) and the kids are all at school. So over breakfast we decided to take out the yellow duck and enjoy the day.
I like finding cool things to ride to, and one of them is bridges. I have a bridge trip report you can find here, I haven't updated that one in a while, and here is one more for that list.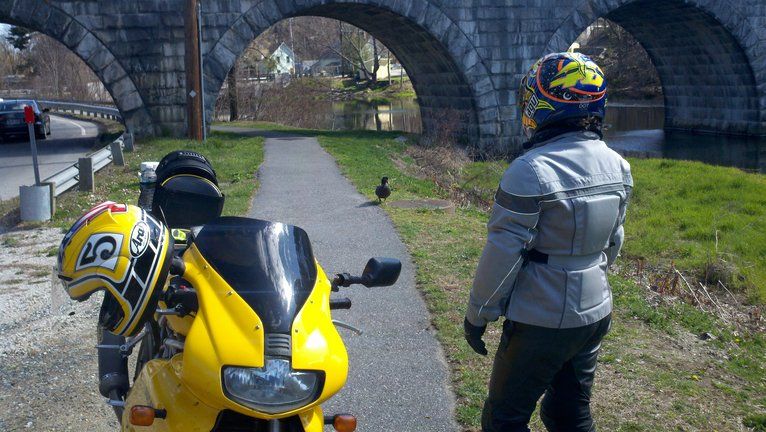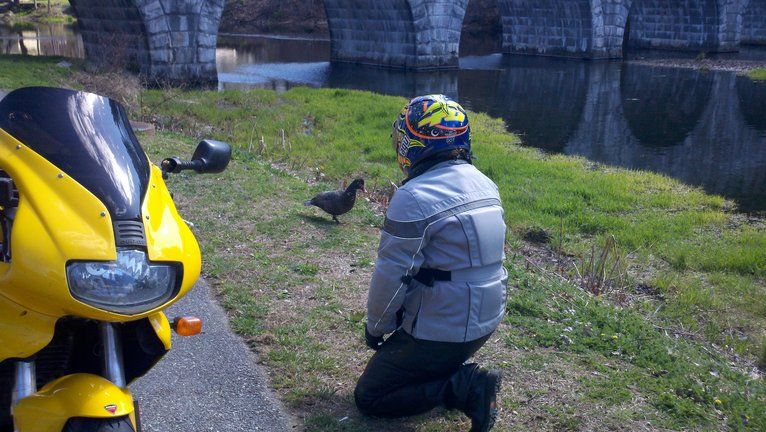 While there we had a visitor who wanted to check out my duck. This little guy came right up to us and would have eaten something out of our hands if we had something to offer. We didn't so we left.
I planned on using that first photo for the replacement of the current MA tag on the NER message board. Which was this old fire station in Millis MA. We took all back roads from Northboro (bridge photo) to Millis, including going right thru Hopkiniton, which is where the start to the Boston Marathon is. The downtown area was a buzz with activity, TV channel trucks were everywhere and they were painting the starting line as we rode by.
I also saw one of the Snappy Dog owners walking down the road. It was a bit too early to stop for hot dogs..however its great to know the trailer is now open for the season. If you find yourself craving a GREAT hot dog go see the girls here.
After that photo my camera done up and died on me. Which really sucks because its built into my droid phone, and since I got that droid Ive been a photo tagging fool. Good thing I had Mrs OSJ with me, because she has the same phone. This did make things a bit easier for me, I would just pull up to something and tell Mrs OSJ to hop off and snap a photo.
Not too far away from the fire station we came across this cool looking car. I'm pretty sure this was used in a tag at one point, but I felt I needed to stop and take the photo none the less.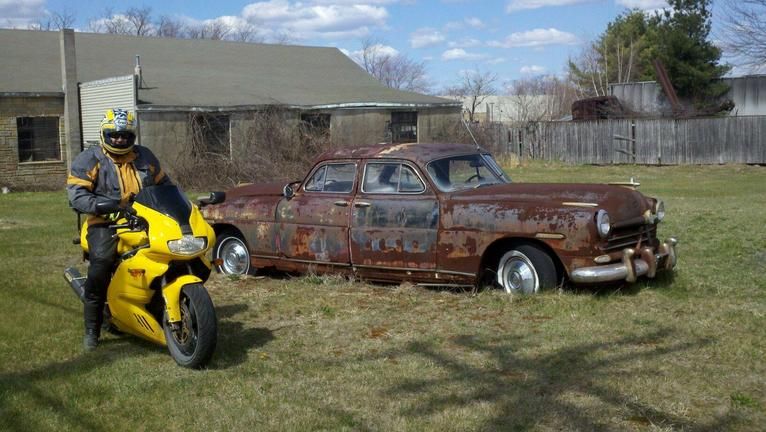 Another thing we like to do together is visit places we've seen on TV for good eats. Shows like Diners, Drive inns and dives as well as many shows on Travel channel or even Discovery Channel has some great shows on interesting places to eat at. We once rode 300 miles to get a hot dog at Hillbilly Hot Dogs!
One of our favorite local shows is called Phantom Gourmet. They feature local restaurants, a lot are in Boston or closer to bigger cities, but occasionally they venture out of the metro area to some cool places. One such place has been on our list for a few years…Its on the Great 8 list..
;
My photo's inside the Beef Barn did not come out well. I went with the classic Beef Sammie and just put their special sauce on it. It was very tasty but way too small for an adult. We split as side of fries and again it was very small. Lunch was less than $20 but we both left just a little bit hungry. If I were to go back I would oder two Sammie's and I think that would fill me up!
After we ate I told Mrs OSJ we would be getting on the highway for a few miles. I wanted to get the RI tag and stop at the local Harley shop to get my tour card stamped. Both places were close enough to Providence and really not the best place to ride. So a quick jaunt to get the tag…(which is also a great place to eat, its been featured on Triple D) and another quick stop to get our stamp.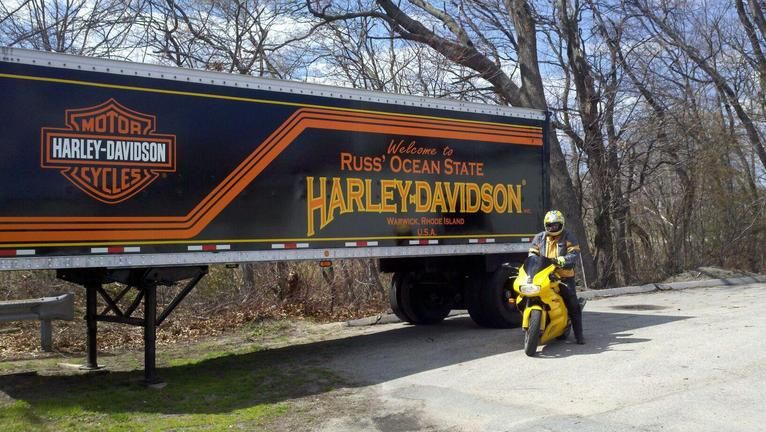 At one of the Harley stops we sat out on the front porch and enjoyed a nice break. Sorry no photo's of this one, but we did talk with a very nice guy on a street glide. He didn't know anything about the tour card program but over heard us ask to get our stamp. He explained he didn't have the typical "trailer queen" Harley but actually rode his everywhere. We sat together on the rocking chairs and chatted for quite awhile about bikes, Kids and life in general. This is something us motorcyclist share, a common bond because we enjoy the same passion of the wind in our faces. Something the "normal" public just doesn't understand.
We said our good byes after a little while and headed out in different directions on two very different bikes. However it was a nice connection. I soon found the best thing about riding in RI…that is entering CT!
Now I know there are some nice roads in the Ocean state, but not too many….and most of them lead out of state anyway!
We found ourselves heading north on CT route 49. Which is such a great roads to ride your motorcycle on. It leads you right into the "quiet" corner of the Constitution state. We found another bridge to stop at, I think its a pumpkin seed bridge. Its closed off but I still rode the duck over…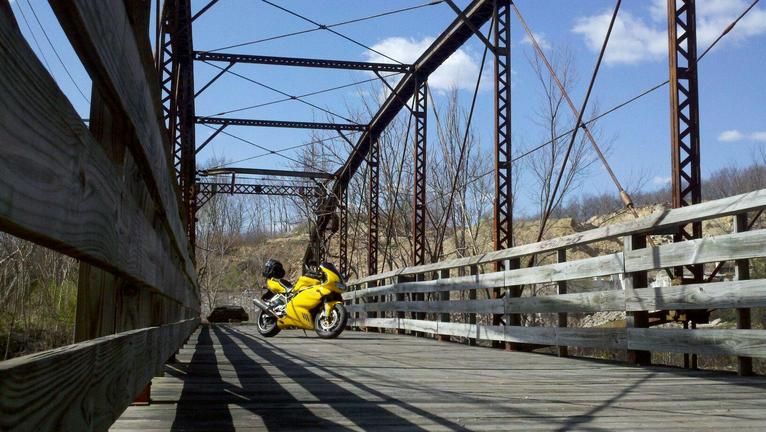 We relaxed here for a bit and took some photo's. I was telling Mrs OSJ we need to find something for the WTF is that doing there thread over on NER. I now have a goal of finding something for that thread on every ride we do. Mrs OSJ also asked if we could stop somewhere for desert and a cold Latte on the way home.
It was late afternoon but we really didn't have anything pressuring us to head home quickly. I had softball practice with Lizzy at 6pm and she was getting a ride there from another parent so I knew we could take the long way home. We took CT 205 to CT169 north. 169 is a very scenic road that travels thru some very nice old town commons. It wasn't too long until I knew of a spot to take my WTF photo…
Then another one, this time from the parking lot of The Vanilla Bean restaurant in Promfret CT.
My buddy Richie loves when I take photo's of our on the road meals. Here are a few that I have posted to him in the past.
I didn't get a chance to take a photo at lunch, but my final photo of the day was Mrs OSJ and her chocolate cake and Iced Mocha Latte…boy she loves those Iced Lattes!
We made it home at 5:45, just enough time to change and hop in the big red truck and head to practice.
It was another great day of riding with my very best friend!