…I took a bunch of photo's yesterday…but lost them all when i mistakenly deleted them when I got home!
So the only ones that survived was the ones I sent to FB while riding.  Which is a easy way to upload photo's BTW, but if you want to request me search for New England Sport Touring.  I use FB for just motorcycle friends, and I usually only post up motorcycle related stuff.
Anyway, back to my ride.  Took the KLR out with its custom luggage for the day..I needed to pick up a crock pot that I left at my sisters house.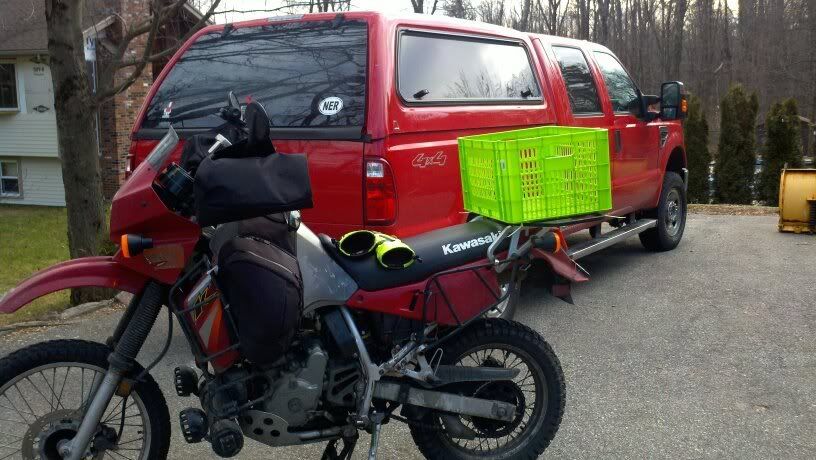 Zip ties and a milk crate…
It was cold, but not freezing, right around 35 degrees when I left, I was tagging (whats new?)  First one was the ADV MA tag in Sudbury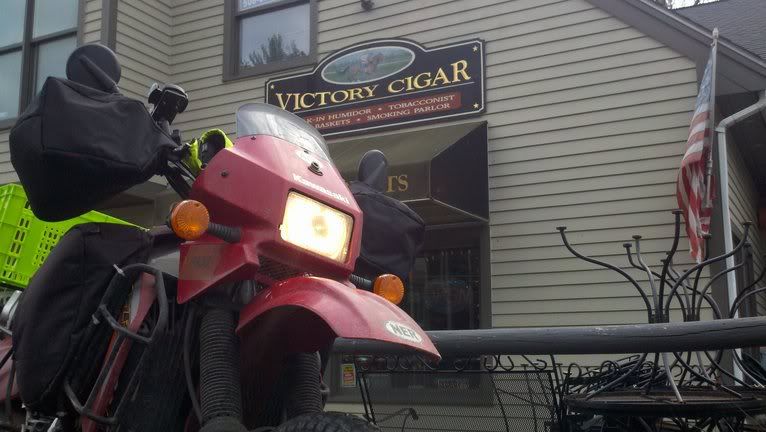 Then the next was the NER MA tag in Weston.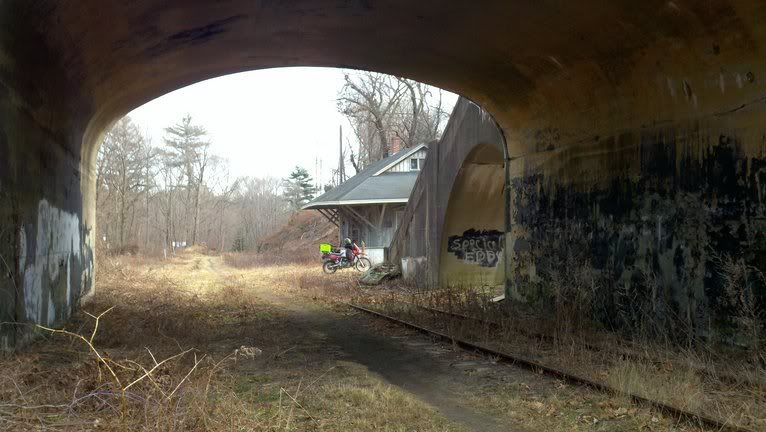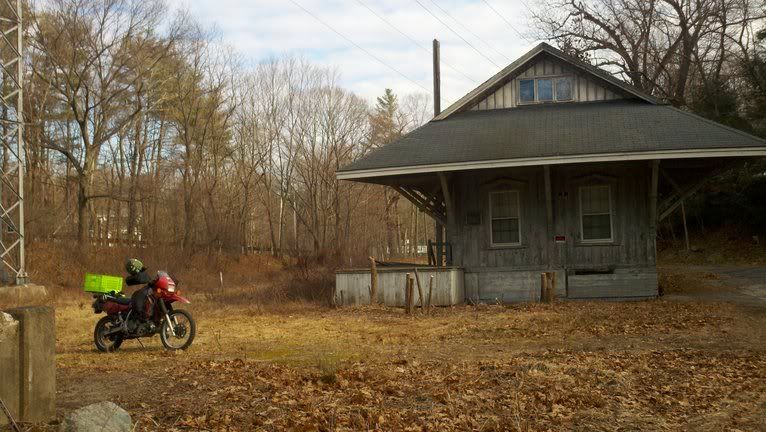 This is the famous "rail trail" in Weston that the locals voted down because they didn't want Waltham residents wondering around their back yards.  I noticed no signs saying "no motorized vechicles" just one Private property sign on the bridge you see me standing under.  But clearly there was a trail leading in both directions.
while sitting posting my tag with my droid, an older gentleman on a mountain bike rides up to me.  And we start to chat about the trail. Seems Weston will be converting it to official rail trail soon.  But for now its just a RTW that that state owns but no one really polices it.  I ask him if there is a problem with dirt bikes or 4 wheelers using it.  He says, no one in Weston owns a dirt bike 
 then tells me that he lives close to where we are sitting and usually watches it, and rides his bike on it every day. He saw me ride down to it so that's why he came down to talk with me.  I jokingly say that if the only posting is "private property" and its not his property than why would he care if I rode my KLR down it,  especially seeing he rides his bike down it every day, aren't you breaking the law as well?  He agreed but told me that the locals that live on it would call the cops on my but not on mountain bikes or joggers.  In the end I did not ride down the trail, I got back on the road and headed east.
I took a ton of photo's on and around Shermans Bridge, this is the only one that made it home..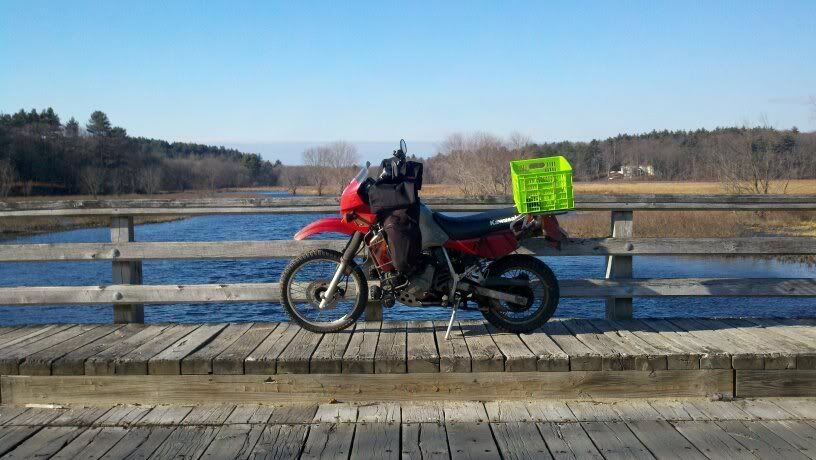 I rode a buch of back roads towards Leominster, this is where my crock pot was, I happend to be riding by the Fire Fighters Academy in Stow and stopped to snap a shot of this cool mural right outside.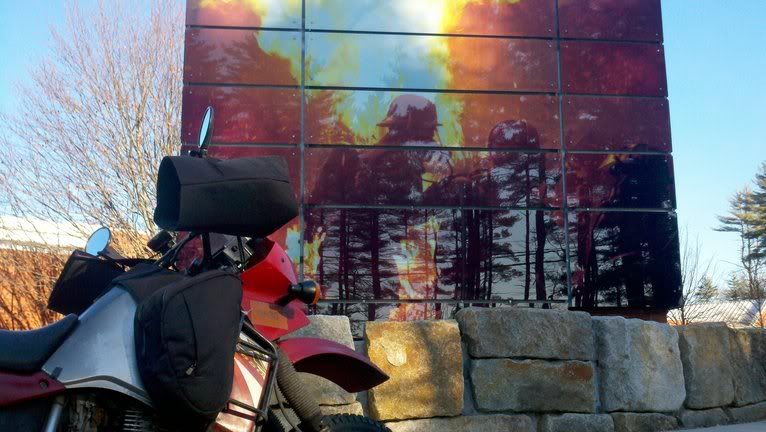 From here I worked my way thru Hudson and into Berlin.  My stomach was growling, I needed lunch!  And lucklily for me I was riding right by Lowe's Variety in the center of Berlin.  If your near this place stop in for lunch.  They make really good homemade food.  I love the grilled hotdogs and corn chowder.  They have a few tables out back that you can sit on to eat.   Its classic old school New England, tables scattered around a small store. A place you can get just about anything you need.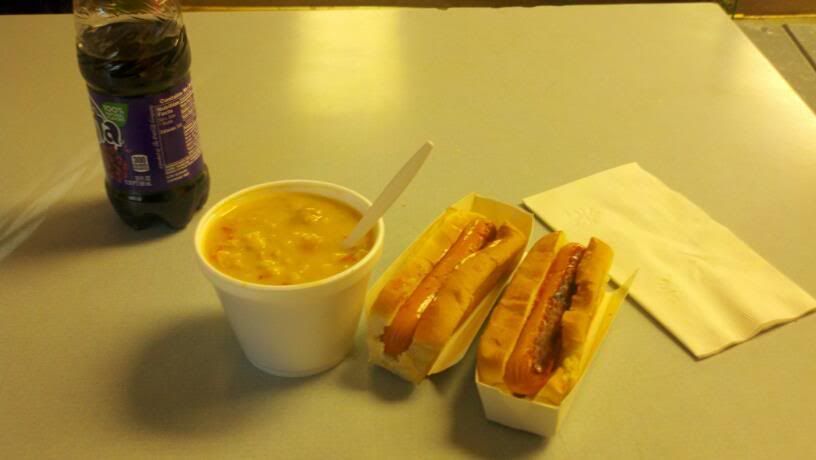 Lunch was the last photo I sent to FB for the day.  I had taken many more but there gone… Even the one with the KLR laying on its side!
Yup, as luck would have it I made it to my sisters house to pick up my crock pot,  then I wanted to set the new ADV tag down some dirt fire roads in Lancaster.   I grew up on Fort Pond in that section of town.  And there are fire roads that go for ever around there.   I went down one that is a steep hill and at the bottom is a small stream.  Turns out the stream is pretty big right now, I wasn't sure if I could cross it, so when I tried to turn around I dropped the bike.  First time the KLR was on its side since Ive owned it.   It was just a simple drop, nothing damaged and I didn't even hit the ground.  But my trusty crock pot didn't survive